The Board of Trustees of the Peace Prize of the German Publishers and Booksellers Association has chosen Algerian author Boualem Sansal to be the recipient of this year's Peace Prize. The award ceremony took place on Sunday, October 16, 2011 in the Church of St. Paul in Frankfurt am Main. The laudatory speech was held by Peter von Matt.
The German Publishers and Booksellers Association awards the 2011 Peace Prize of the German Book Trade to Boualem Sansal. In doing so, the association and its members have chosen to honor an Algerian author and passionate story-teller who has consistently encouraged intercultural dialogue in a spirited and compassionate manner as well as in an atmosphere of respect and mutual understanding.
Boualem Sansal is one of the few remaining intellectuals in Algeria who continue to voice criticism of political and social conditions in that country. With his unrelenting plea for the kind of free speech and public dialogue that are hall-marks of a democratic society, he labors against all forms of doctrinarian blindness, terror and political arbitrariness. His critical view is, however, directed not only at his homeland, but also at the entire contemporary world.
Speeches
His goal is none other than a democracy that lives up to its name by allowing the people inhabiting it to be free to live their growing diversity and differentness.

Gottfried Honnefelder - Greeting
Gottfried Honnefelder
Greeting of the president
Sansal lives in Algeria, and his books deal passionately with it. Nevertheless, they are not allowed to be published there. They are smuggled in and circulated in secret. He himself belongs to no party and no movement. He is a lone voice that trusts in the slow-moving force of literature.

Peter von Matt - Laudation for Boualem Sansal
Peter von Matt
Laudatioon for Boualem Sansal
People are fighting for freedom, committing themselves to democracy, throwing open doors and windows, they are looking to the future and they want that future to be pleasant, to be simply human.

Boualem Sansal - Acceptance speech
Chronicle of the Year 2011
+ + + The so-called Arab Spring, which began in Tunisia in December 2010, is spreading to many countries in North Africa and the Middle East. + + + On January 5, riots begin in Algeria. + + + Resignation of Tunisian President Ben Ali on 14 January + + + Protests in Egypt on 25 January. + + +A suicide bomber kills 36 people in a Chechen terrorist attack at Moscow-Domodedovo airport + + +
---
+ + + In Yemen, Jordan, Libya, Bahrain and Syria opponents of the government are protesting. + + + During the revolution in Egypt, President Husni Mubarak is forced to resign. + + + As a result of a plagiarism affair, the German Minister of Defense Karl-Theodor zu Guttenberg resigns + + + The Tōhoku earthquake triggers a severe tsunami that sweeps over the northeast coast of Japan. In total there are over 15,000 dead. + + + After the Tōhoku earthquake, the Japanese nuclear power plant Fukushima I suffers a series of serious accidents in several reactor blocks. Further incidents or accidents occur at the Onagawa, Tōkai and Fukushima II nuclear power plants. + + + The terrorist Osama bin Laden is killed by US special forces during Operation Neptune's Spear in Abbottabad. + + + After 30 years, STS-135 is the last space shuttle mission + + + Southern Sudan declares its independence from Sudan + + + Right-wing extremist Anders Behring Breivik's terrorist attacks kill 77 people in Norway + + + The ruler Muammar al-Gaddafi is defeated in the civil war in Libya and is killed + + + In Germany, the NSU becomes publicly known when Uwe Mundlos and Uwe Böhnhardt are found dead in a burnt-out mobile home + + +
Biography of Boualem Sansal
Boualem Sansal was born on October 15, 1949 in Teniet el-Had, a small mountain village roughly 250 kilometers southeast of Algiers. After his father died in a car accident in 1950, his family moved to his grandparents' home in Vialar (today's Tissemsilt) south of the Atlas Mountains, which Sansal would later use as the setting for his second novel. In 1956, during the upheavals triggered by the Algerian Civil War (1954-1962), his family fled to Algiers, which they also had to abandon during the highpoint of the violence there. After Algeria gained its independence in June 1962, the family returned to Algiers and settled in the working-class district of Belcourt. In 1975, after attending secondary school and obtaining a degree in engineering, Sansal was awarded a doctorate in Industrial Economics. At the same time, he taught statistics at the polytechnic uni-versity and worked as a management consultant. In these early days, he enjoyed success in his professional career and, in 1986, he became the general director of a consulting firm. In 1992, he was appointed an advisor to the Ministry of Trade and, in 1996, he was promoted to a position as a general director in the Ministry of Industry and Restructuring.
---
The Algerian writer Rachid Mimouni, with whom Sansal enjoyed a close friendship stretching back to his university days, eventually encouraged him to start writing. In 1996 – after the 1992 assassination of Algerian President Mohamed Boudiaf, against the backdrop of a nation shaken by civil war and the increasing Islamization of its society, and one year after Mimouni died in exile in Paris – Sansal began writing his first novel "Le serment des barbares" (The Barbarians' Sermon), which was published in 1999 by the French publishing house Gallimard.
At the center of this crime thriller is Si Larbi, a police detective investigating a murder. When he discovers it is connected to another crime, he becomes the target of the political, economic, social and religious elite and their henchmen. The novel's open criticism of the political situation in Algeria prompted Sansal's publisher, Gallimard, to advise him to publish it under a pseudonym, but Sansal opted not to do so. The novel was released to much enthusiasm in France, and a film version was made based on a screenplay by Jorge Semprún. When the novel was published in Algeria, Sansal was forced to go on leave from his ministerial position.
In 2000, Sansal published his second novel, "L'enfant fou de l'arbre creux" (The Crazy Child from the Hollow Tree), which was his first book published in German-speaking countries. This critical-ly acclaimed novel deals with two death-row inmates sharing a cell while they await execution. One is Pierre, a Frenchman who came to Algeria illegally, and the other is Farid, an Algerian who was tied to atrocities committed by Islamic extremists. The two men are forced to overcome their reservations and interact with one another. In witnessing this interaction, the reader gets a re-presentative window into the value systems and worldviews of the Western and North African worlds as well as the dialogue between them.
Sansal's "Journal intime et politique, Algérie 40 ans après" (An Intimate and Political Journal: Algeria 40 Years Later), which appeared in 2003, was written with four other Algerian writers as a political diary about the situation in Algeria 40 years after independence. After making critical statements regarding Algerian President Abd al-Aziz Bouteflika, Sansal was discharged entirely from his government position. At that point, he decided to no longer pursue a career in his pro-fessional field in favor of putting his sole focus on becoming a writer.
That same year also saw the publication of his novel "Dis-moi le paradis" (Tell Me about Paradi-se), which is about a bar in Algiers where the regular guests gather every night and vie with each other to tell the best stories about Algeria. In these stories, the borders are increasingly blurred between the "new" Algeria that the tellers dream of and the reality of everyday hardships caused by abuses of power, corruption and poor administration.
The title of Sansal's fourth novel, "Harraga," (2005) is also the Arabic term for people who illegal-ly make their way from Africa to Europe. In the course of their journey, they burn their papers so they cannot be deported. However, in this homage to the women of Algeria, Sansal uses the word harraga to describe the isolation that his two main female characters experience in Algerian so-ciety. In this way, the novel becomes an exploration of the role of women in an Islamic society where the real issue is taking decisive action against inherited traditions rather than the conflict between world religions.
A year later, Gallimard published an open letter from Sansal to his fellow citizens entitled "Poste restante: Algier: Lettre de colère et d'espoir à mes compatriots" (Poste Restante: Algiers: A Letter of Anger and Hope to my Compatriots). Although the work was primarily addressed to Algerians living at home and abroad, the complex meaning of the text extends far beyond the Algerian context. In what the German daily Die Tageszeitung has called a "polemic essay in the good old French tradition," Sansal explores an idea of true democracy in which the vision of an enlighte-ned world population could take shape. After this letter was published, all of Sansal's works were banned in Algeria. Despite all the political pressure he has faced, however, he has chosen to re-main in his home country.
Sansal's most recent novel, "Le village de l'Allemand ou le journal des frères Schiller" (The Ger-man Mujahid, 2008), has received many prizes and been translated into several languages, inc-luding German, Dutch, Italian and English. The novel tells the story of two Algerian brothers raised in France. After their parents die, they are confronted with the Nazi past of their German father. In this story, Sansal draws a connection between the taboo of the Holocaust in the Arabic world and the sad reality of immigrants in European suburbs. When it first appeared in France, the novel triggered a major debate because Sansal compares the methods of the Islamists with those of the Nazis.
Since last year's dawning of the so-called Arab Spring, with its demonstrations and budding pro-cesses of democratization, Sansal has also become an important and sought-after voice on the international stage. In a number of publications and interviews, he has supported the reform movements and warned of the growing influence of Islamic fundamentalism, which he sees as posing a major danger to freedom and moderate Islam. With a great deal of skepticism, Sansal has also critically explored emerging Arabic nationalism, which he fears could block the path to democracy.
In addition to the Peace Prize of the German Book Trade (2011), Sansal has received a number of prestigious awards for his writings, including the Médaille d'honneur de la LICRA, la ligue inter-nationale contre le racisme et l'antisémitisme (2009), the Prix Edouard Glissant (2009), the Prix Louis-Guilloux (2008), the Grand Prix du roman de la Société des gens de lettres (2008), the Grand Prix RTL-Lire (2008), the Grand Prix de la Francophonie de l'Académie Royale de Belgique (2008), the Prix Michel Dard (2001), the Prix Tropiques (1999) and the Prix du Premier Roman (1999).
Sansal lives in the coastal town of Bourmerdès, near Algiers. He has two daughters from his first marriage, with a Czech woman. He has been married to his second wife, an Algerian, since 1986.
2018 Prix international de la laïcité
2015 Grand Prix du roman de l'Académie françcise
2013 Grand Prix de la francophonie
2012 Prix Roman arabe
2011 Peace Prize of the German Book Trade
---
2009 Médaille d'honneur de la LICRA
2009 Prix Edouard Glissant
2008 Prix Louis-Guilloux
2008 Grand Prix du roman de la Société des gens de lettres
2008 Grand Prix RTL-Lire
2008 Grand Prix de la Francophonie de l'Académie Royale de Belgique
2001 Prix Michel Dard
1999 Prix Tropiques
1999 Prix du Premier Roman
Bibliography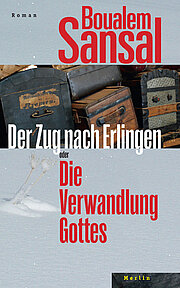 Aus dem Französischen von Vincent von Wroblewsky, Merlin Verlag, Gifkendorf 2019, 260 Seiten, ISBN 978-3-87536-333-3, 24,00 €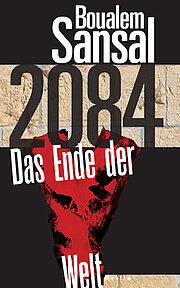 Aus dem Französischen von Vincent von Wroblewsky. Merlin, Gifkendorf 2016, 288 Seiten, ISBN 978-3-87536-321-0, 24,00 €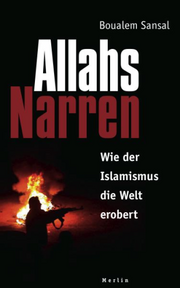 Aus dem Französischen von Regina Keil-Sagawe, Merlin Verlag, Gifkendorf 2013, 168 Seiten, ISBN 978-3-87536-309-8, 14,95 €
Das Dorf des Deutschen. Das Tagebuch der Brüder Schiller
Aus dem französischen Original »Le village de l'Allemand ou le journal des frères Schiller« (2008) von Ulrich Zieger (engl. »An Unfinished Business«, 2011), Merlin Verlag, Gifkendorf 2009, 288 Seiten, ISBN 978-3-87536-281-7, 15,80
Petit éloge de la mémoire. Quatre mille et une années de nostalgie
[Kleine Lobrede auf das Gedächtnis. Viertausend und ein Jahr Nostalgie], Gallimard, Paris 2007
Postlagernd: Algier. Zorniger und hoffnungsvoller Brief an meine Landsleute
Aus dem französischen Original »Poste restante: Alger: Lettre de colère et d'espoir à mes compatriotes« (2006) von Ulrich Zieger Merlin Verlag, Gifkendorf 2008, 84 Seiten, ISBN 978-3-87536-292-3, 9,90 €
Harraga
Aus dem französischen Original »Harraga« (2005) von Riek Walther Merlin Verlag, Gifkendorf 2007, 320 Seiten, ISBN 978-3-87536-294-7, 15,80 €
Erzähl mir vom Paradies
Aus dem französischen Original »Dis-moi le paradis« (2003) von Regina Keil-Sagawe, Merlin Verlag, Gifkendorf 2004, 320 Seiten, ISBN , 22,90 €
Journal intime et politique, Algérie 40 ans après
[Persönliches und Politisches Tagebuch, Algerien, 40 Jahre danach], Par Boualem Sansal, Maïssa Bey, Mohamed Kacimi, Nourredine Saadi et Leïla Sebbar, Editions de l'Aube, Paris 2003
Das verrückte Kind aus dem hohlen Baum
Aus dem französischen Original »L'enfant fou de l'arbre creux« (2000) von Riek Walther, Merlin Verlag, Gifkendorf 2002, gebunden, 320 Seiten, ISBN13: 978-3-87536-224-4, 23,00 €
Der Schwur der Barbaren
Aus dem französischen Original »Le serment des barbares« (1999) von Regina Keil-Sagawe, Merlin Verlag, Gifkendorf 2003, 420 Seiten, ISBN 978-3-87536-280-0, 18,90 €
Rue Darwin
Aus dem französischen Original ("Rue Darwin", 2011) von Christiane Kayser. Merlin, Gifkendorf 2012, 320 Seiten, ISBN 978-3-87536-302-9, 24,90 €
Peter von Matt, born on 20 May 1937 in Lucerne, studied German, English and art history in Zurich and Nottingham. After his habilitation on E.T.A. Hoffmann's theory of imagination, he became professor of literary studies at the University of Zurich in 1976.
---
Peter von Matt was primarily known for his numerous books and essays on literature and literary history such as "Liebesverrat. Die Treulosen in der Literatur" (1989) or "Verkommene Söhne, missratene Töchter. Family disaster in literature" (1995). Through the wide range of his observations, Matt succeeded time and again in bringing to light the constants in human actions and human relationships. This is also true of his latest books such as "Das Wilde und die Ordnung: Zur deutschen Literatur" (2007) or "Die Intrige. Theorie und Praxis der Hinterlist" (2006), he has also provided insights that have social relevance far beyond the boundaries of his own discipline and take a stand on fundamental questions of democracy.
Since his retirement in 2002, Peter von Matt has worked primarily as editor and author, for which he has received numerous awards, including the Prize of the Frankfurt Anthology (1997), the Art Prize of the City of Zurich (2000), the European Essay Prize "Charles Veillon 2002", the Heinrich Mann Prize (2006) and the Brothers Grimm Prize of the University of Marburg (2007).
Peter von Matt is president of the Max Frisch Foundation and a member of numerous academies and the order Pour le mérite. From 2010 to 2015 he had been a member of the board of trustees of the Peace Prize. He is married to the literary critic Beatrice von Matt-Albrecht and lives in Dübendorf near Zurich.