The Board of Trustees of the Peace Prize of the German Book Trade has chosen the Mumbai-born author Salman Rushdie to be the recipient of this year's Peace Prize. The award ceremony will take place on Sunday 22 October 2023 in the Church of St. Paul in Frankfurt am Main. The event will be broadcast live on German public television (ZDF) at 11 am. The laudation will be held by Daniel Kehlmann.
"From the moment his masterpiece Midnight's Children was published in 1981, Salman Rushdie has awed us with his interpretations of migration and global politics. In his novels and non-fiction, he melds narrative foresight with unfailing literary innovation, humour and wisdom. His work chronicles the force used by oppressive regimes to destroy entire societies while also celebrating the indestructible spirit of resistance displayed by individual human beings.
Ever since Iran's Ayatollah Khomeini issued a fatwa against Salman Rushdie in 1989, the author has lived under serious and constant threat to his life. And yet he remains a passionate defender of freedom of thought and expression – just as equally for himself as for those whose views he does not share. He thus accepts great personal risk in his enduring defence of an essential prerequisite for peaceful human co-existence.
In August 2022, shortly before the publication of his most recent novel, Victory City, a violent attempt was made on his life. Today, despite still wrestling with massive physical and psychological consequences, he continues to write with great imagination and deep humanity. We honour Salman Rushdie for his indomitable spirit, for his affirmation of life and for enriching our world with his love of storytelling".
»I am deeply honoured by, and grateful for this very important award. I can only thank the Jury for its generosity. I know how significant this prize is, and I'm a little overawed by the list of previous recipients, to whom my name will now be added. I'm truly delighted«. (Salman Rushdie)
Sir Salman Ahmed Rushdie was born 19 June 1947 in Bombay (now Mumbai), India, and is one of the most important writers in contemporary English literature. His novels are known for combining magical realism with historical fiction and have been translated into over 40 languages. Often set on the Indian subcontinent, Rushdie's writing explores the connections, migrations and ruptures between Eastern and Western civilisations. In addition to novels, Rushdie is also the author of short stories, travel literature, essays and journalistic pieces.
Rushdie's depiction of the Prophet Mohammed in his fourth novel, »The Satanic Verses«, prompted Ruhollah Khomeini, then Supreme Leader of Iran, to issue a fatwa in 1989 calling for the writer's execution. From that moment on, Rushdie and his professional associates were the subject of numerous death threats and assassination attempts. The author had no choice but to go into hiding and live under police protection for several years. In spite of this experience, Rushdie remains a highly effective contributor to debates on censorship, freedom of expression and religiously motivated violence to this day. In his work, he continues to advocate for the peaceful co-existence of cultures.
From 2004 to 2006, Rushdie was president of the PEN American Center and went on to act as chairman of the PEN World Voices International Literary Festival for ten years. On 12 August 2022, Rushdie was attacked and critically injured at an event in New York State.
Rushdie has been honoured with numerous prizes and awards for his literary work and commitment to social causes. In 2007, he was conferred the rank of Knight Bachelor by Queen Elizabeth II. On 22 October 2023, he will be awarded the Peace Prize of the German Book Trade in the Church of St. Paul in Frankfurt am Main.
---
Salman Ahmed Rushdie was born into a literature-loving household in liberal, cosmopolitan 1950s Mumbai, then Bombay. The son of a wealthy Muslim businessman and a schoolteacher, he was raised alongside three sisters. His mother tongue is Urdu. In 1964, the family moved to Pakistan. At the age of 14, Rushdie moved to England, where he attended an elite boarding school in Rugby and quickly became so conversant in English that he made it the language of his writing. He studied history at King's College, Cambridge, and took drama classes there.
Rushdie began his professional career as a freelance journalist and theatre actor, earning his living as a copywriter in an advertising agency. In 1973, he became active as a writer and eventually published his debut novel, »Grimus«, in 1975. In 1981, his second novel, »Midnight's Children«, which traces the life of a family in the era leading up to Indian independence, brought him international fame, becoming a bestseller in Great Britain and the US and receiving the Booker Prize.
With his fourth novel, »The Satanic Verses«, which examines the lives of Indian immigrants in England, he was initially able to build on the success of »Midnight's Children«. However, his satirical depictions of episodes drawn from the life of the Prophet Mohammed, and a section of the novel in which sex workers are given the names of the wives of the Prophet, prompted outrage among many Muslims. In February 1989, the Supreme Leader of Iran, Ayatollah Khomeini, issued a fatwa and placed a bounty on Salman Rushdie's head, effectively calling on Muslim people worldwide to murder the writer. The fatwa was upheld by Iran even after the death of Khomeini. From that moment on, Rushdie was forced to live under police protection with a false identity in a constantly changing series of underground locations.
In Germany, »The Satanic Verses« was published by a collective of roughly 100 publishers, writers' associations, editors and authors at »Artikel 19 Verlag«, a publishing company specially founded for the purpose. The company's name is a reference to the article covering freedom of expression in the United Nations' Universal Declaration of Human Rights. This approach was taken as a way of preventing one publishing house alone from becoming the target of potential retaliatory attacks. To this day, the name of the person who translated »The Satanic Verses« into German is not public knowledge. Unfortunately, protests against the book – including violent demonstrations, book burnings, arson attacks on bookshops, assassination attempts at cultural festivals and attacks on anyone involved in the publication – claimed the lives of many individuals worldwide. For example, in July 1990, unknown assailants carried out attacks on the Italian and Japanese translators of »The Satanic Verses«, with the latter succumbing to his injuries. The publisher of the novel in Norway was seriously injured in a gun attack in 1993.
In 1998, in an agreement with Great Britain, then Iranian president Mohammed Khatami announced »the matter of Salman Rushdie« officially closed and distanced himself from the fatwa. In 1999, Rushdie announced that he would be renouncing personal protection. Conservative religious hardliners remain true to the fatwa, however, insisting that it cannot be withdrawn. The bounty on Rushdie's head was last increased in 2016 to nearly $4 million US. Rushdie wrote about his life under police protection in his 2012 autobiography »Joseph Anton«, a pseudonym that reflects his affection for Joseph Conrad and Anton Chekhov.
In the 1990s and 2000s, Salman Rushdie published numerous short stories and novels, most of which were celebrated as literary masterpieces. These works examine the clash between Eastern and Western civilisations, the contradictions between religion and reason as well as themes of migration and rupture, including »East, West« (1994), »The Moor's Last Sigh« (1995), »The Ground Beneath Her Feet« (1998), »Fury (2002), »Shalimar the Clown« (2005), »The Enchantress of Florence« (2008), »Luka and the Fire of Life« (2010), »Two Years Eight Months and Twenty-Eight Nights« (2015), »Golden House« (2017) and »Quichotte« (2019).
Rushdie's novels and the characters that inhabit them are always a fascinating blend of reality and fiction, whether it's the story of a family of spice traders the author uses to create a panorama of Indian history marked by rising racism up to the present day or the high-wire artist who becomes an Islamic terrorist and professional killer after his wife, a dancer, leaves him for the American ambassador. In addition, whether it's the satire of the former US president as a minor character in »Golden House« or a modern Quichotte who wanders across the US with Sancho as his passenger in search of Dulcinea, who happens to be an Indian-American TV talk show host, Rushdie's novels always come with an invitation from the author to look at characters and their stories from a different perspective so that we're able to recognise and acknowledge both their strengths and their weaknesses.
Rushdie's non-fiction work is further proof of his standing as a world-class author. The volume of collected works known as »Step Across This Line« (2019), which contains commentaries on writing, the Iranian fatwa and the events of 11 September 2001, is a plea for the peaceful coexistence of human beings and cultures. In the essays, glosses and speeches contained in »Languages of Truth« (2021), Rushdie reflects on the power of storytelling and the search for a universally valid language, also examining global political events and speaking out vehemently against oppression and discrimination.
On 12 August 2022, shortly after completing his latest novel, »Victory City«, Rushdie was stabbed and critically injured by an assailant at an event in New York State. Soon thereafter, spontaneous readings were held around the world in a gesture of solidarity. There was great relief when it was announced that Rushdie had survived the attack, but also dismay at the news that he had lost one eye and that the hand he uses to write would be permanently impaired. In early 2023, in light of the attack on his life, the publication of »Victory City« – a novel in which the author explores themes of love and the abuse of power and recounts the rise and fall of a wondrous matriarchal utopia – took on an uncanny, oppressive dimension that points directly to our present-day reality. The novel ends with the phrase: »Words are the winner«.
In early June 2023, Salman Rushdie announced that he intended to write a book about the attempt on his life. »It's not the easiest book in the world to write, but it's something I need to get past in order to do anything else«, he explained at the Hay literary festival. In an interview with the Portuguese TV broadcaster RTP, he added: »That's the thing that writers can do: they can outlast the thing that opposes them«.
2023 Peace Prize of the German Book Trade
2019 WELT Literary Award
2019 Swiss Freethinkers Award
2018 Emperor Has No Clothes Award (Freedom From Religion Foundation)
2015 Norman Mailer Prize Lifetime Achievement
2015 Médaille d'or du Círculo de Bellas Artes
2014 Hans Christian Andersen Literature Award
2014 PEN Pinter Prize
2013 Canadian Screen Award
2010 Golden PEN Award
---
2009 St. Louis Literary Award
2008 Best of the Booker
2008 James Joyce Award
2007 Knight of the British Empire
2007 Outstanding Lifetime Achievement in Cultural Humanism (Harvard University)
2005 Vodafone Crossword Book Award
2000 Commonwealth Writers Prize (Eurasia Region)
1999 Commandeur de l'Ordre des Arts et des Lettres
1999 Honorary Doctorate, FU Berlin
1996 Aristeion Literary Prize of the European Union
1996 British Book Award
1996 Whitbread Novel Award
1993 Booker of Bookers Prize
1992 Mythopoetic Award
1992 Kurt Tucholsky Prize (Sweden)
1992 Austrian State Prize for European Literature
1991 Writers Guild of Great Britain Prize
1990 Goldene Feder Award
1988 Whitbread Novel Award
1985 Prix du Meilleur Livre étranger
1984 Prix du Meilleur Livre Étranger
1981 Booker Prize
1981 James Tait Black Memorial Prize (for fiction)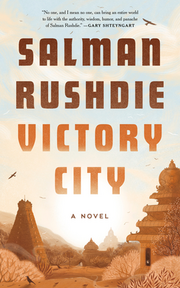 »Victory City«
Random House, New York, 2023, 352 pages, ISBN 987-0-593-24339-8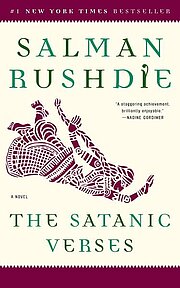 »The Satanic Verses«
Random House, London, 2008, 576 pages, ISBN 978-0-812-97671-7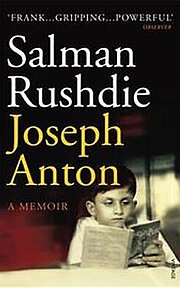 »Joseph Anton. A Memoir«
Vintage, London/New York 2013 (orig. 2012), 656 pages, ISBN 978-0099563440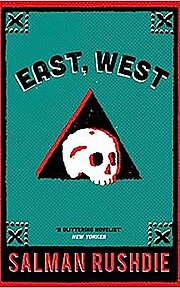 »East West«
Vintages, London/New York 1995, 224 pages, ISBN 978-0099533016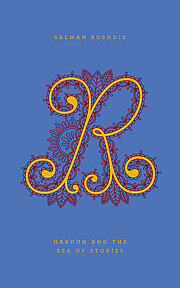 »Haroun And The Sea Of Stories«
Penguin, London 2014 (orig. 1991), 224 pages, ISBN 978 0143124771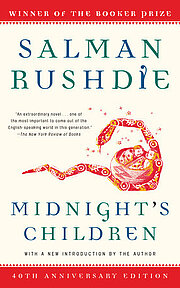 »Midnight's Children«
Random House, New York 2006 (orig. 1981), 560 pages, ISBN 978 0812976533
Laudation Daniel Kehlmann
Daniel Kehlmann was born in Munich in 1975 to director Michael Kehlmann and actress Dagmar Mettler. He grew up in Vienna and studied Philosophy and German at university there. Today, he lives with his family in Berlin and occasionally also in New York. He has been a friend of Salman Rushdie for many years.
Kehlmann has produced an extensive and much discussed body of work comprised of novels, plays and screenplays. His early novels, Beerholms Vorstellung (1997) and Mahlers Zeit (1999), brought him popularity in Germany, and he went on to gain international standing with the novel Me and Kaminski (2003). His next novel, Measuring the World (2005), an entertaining look at the lives of two of Germany's greatest scientific minds, was translated into over 40 languages and counts among the most successful books in post-war German literature. Kehlmann's other novels include Fame (2009), F. A Novel (2013) and most recently Tyll (2017), which was shortlisted for the International Booker Prize.
In addition to novels, Kehlmann is known for numerous plays, screenplays, reviews, essays and columns written for diverse media, including Die Zeit, Der Spiegel, The Guardian, Frankfurter Allgemeine Zeitung, Süddeutsche Zeitung, Literaturen and Volltext.
Among the awards Kehlmann has received for his work are the Candide Preis, the WELT-Literaturpreis, the Per Olov Enquist Prize, the Kleist Prize, the Thomas Mann Prize, the Friedrich Hölderlin Prize, the Frank Schirrmacher Prize, the Schubart-Literaturpreis and the Anton Wildgans Prize.
Kehlmann has held lectureships in poetics at Johannes Gutenberg University in Mainz, University of Applied Sciences Wiesbaden and Göttingen University as well as at Johann Wolfgang Goethe University in Frankfurt am Main in 2014. In 2010, he joined Jonathan Franzen and Adam Haslett for the Tübingen Poetics Lectureship. He has also been a guest professor in the German Department at New York University.
Kehlmann is a member of the Mainz Academy of Sciences and Literature, the Freie Akademie der Künste in Hamburg and the German Academy for Language and Literature. He is a founding member of PEN Berlin.